Business Case
When the State of Michigan passed information privacy legislation that required Register of Deeds offices to remove Social Security Numbers (SSNs) from documents prior to providing them to the public, the Charlevoix County Register of Deeds implemented a Redaction as a Service process.
Charlevoix County required a mechanism to remove SSNs from both existing documents that are stored in an electronic document management application, as well as new documents that are scanned through Kofax Ascent software.
Charlevoix County required access to software as well as professional services to implement an automated redaction solution, but did not want to expend additional capital on hardware or implement a solution that would require support from their outsourced IT staff. The solution not only needed to provide a mechanism to efficiently remove SSNs from documents, but also preserve original, non-redacted documents.
Several different types of documents needed to be redacted. Each type of document contained unique business rules that the Redaction as a Service solution needed to enforce.
Process Description
The AutoRedactor Software as a Service process allows Charlevoix to submit electronic documents captured by an existing Kofax Scan process or pulled from the county's OnBase ecm solution for automated redaction.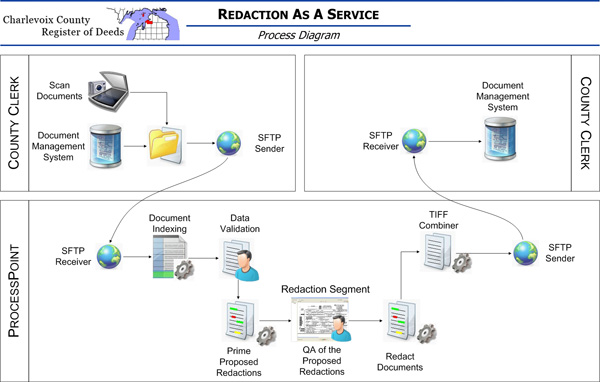 The Process accepts batches of images and first performs full-text OCR on the images using high end six engine OCR. The AutoRedactor then interprets the OCR results in order to identify blocks of text or tokens that resemble SSNs. These tokens are called candidates. AutoRedactor assigns a confidence value to each candidate based on OCR confidence, internal rules, and customer business rules. Based on the confidence value, the tokens are assigned a visual indicator of confidence (Green=High Confidence, Yellow=Medium Confidence, Red=Low Confidence) and are ready for optional user review.
Charlevoix knowledge workers then use the AutoRedactor Quality Assurance (QA) interface to review the processed documents and the candidates for redaction. In the highly optimized QA tool, users may override any of the automated redaction proposal. The QA interface can be configured to skip high confidence candidates in order to streamline the process.
Once the documents are checked using the Quality Assurance tool, the images a permanently redacted by overwriting the individual pixels in the image and loaded back to the OnBase repository. The newly redacted documents are then made available for constituent access.
Input to the AutoRedactor module can come from a variety of sources through Process Point-provided "input modules". In addition to the Kofax Ascent (for newly scanned batches) or OnBase input modules, Process Point is able to supply input modules for most electronic content management applications, and multiple workflow enable input modules.
The AutoRedactor software allows users full visibility of the process using the web monitor.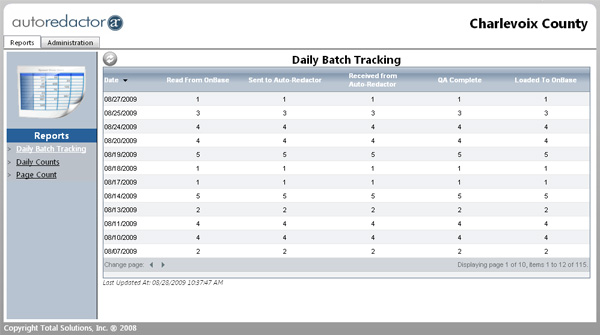 Key Benefits
AutoRedactor ensures compliance with current Privacy Protection Legislation Best Practice for ensuring constituent information security and preventing identity theft.
Cost Effective
Low initial setup costs
For web sale of redacted documentation
Minimal impact on existing IT infrastructure
Scalability - Scale up or down to you volume
Shared Technology - Able to share service among multiple agencies, reducing costs
Adaptable to Meet Changing Redaction Needs
Redact:
Social Security Numbers
Bank Account Numbers
Credit Card Numbers
Names (Minor Children)
Bates/Control Numbers
Health Care related information
Reason Code Section or Paragraph Redactions (corporate discovery)