Business Case
Sandler & Travis Trade Advisory Services (STTAS) uses Kofax Capture to scan and index documents related to vehicle exporting. The indexing of these documents is complex, and STTAS found it difficult to maintain indexing quality with excessive supervision. Missed scanned pages and mistyped indexing fields were not being caught until the final step of the process, forcing STTAS to have higher cost, subject expert resources intervene into the scanning and indexing process.
Process Description
ProcessPoint proposed that STTAS utilize our "On Demand Indexing" services to assure consistency, availability, and high quality indexing. Using the existing Kofax Capture scan software, incoming export documents are scanned and transferred automatically to ProcessPoint via our DocPipes® workflow process. Using automated extraction of indexing data, combined with rigid quality assurance processes, all indexing is performed on US soil, but still at far less than those cost for onsite indexing. Once indexing is completed, documents are routed back to Sandler & Travis where the images and indexing data are automatically loaded into the ECM system. The following diagram illustrates the basic process flow.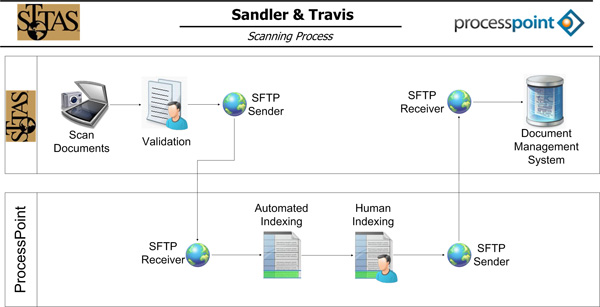 Additional Capabilities
Of critical importance to the overall service is the ability to track every document and every batch. Using our built in web-based real-time monitoring, at any time a document location and processing status can be determined. The following graphic illustrates one of the web based reporting views available for tracking process execution.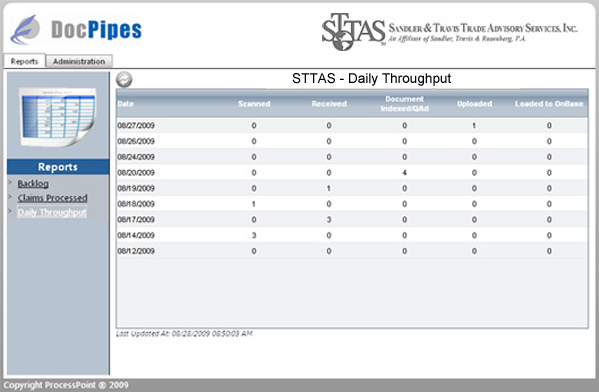 Key Benefits
Following a complete Six Sigma process evaluation, STTAS, has recognized the following benefits:
Total cost to process (per document) reduced by 42%
Scanning and indexing errors reduced by 73%
Rework of export files reduced by 28% (due to fewer incorrectly processed documents)
Total monthly processing costs reduced by 30%
Complete return-on-investment realized 3 months after implementation
DocPipes® is a registered trademark of Total Solutions Inc.